Body Image Manifesto
To be beautiful means to be yourself. You don't need to be accepted by others. You need to accept yourself. – Thich Nhat Hanh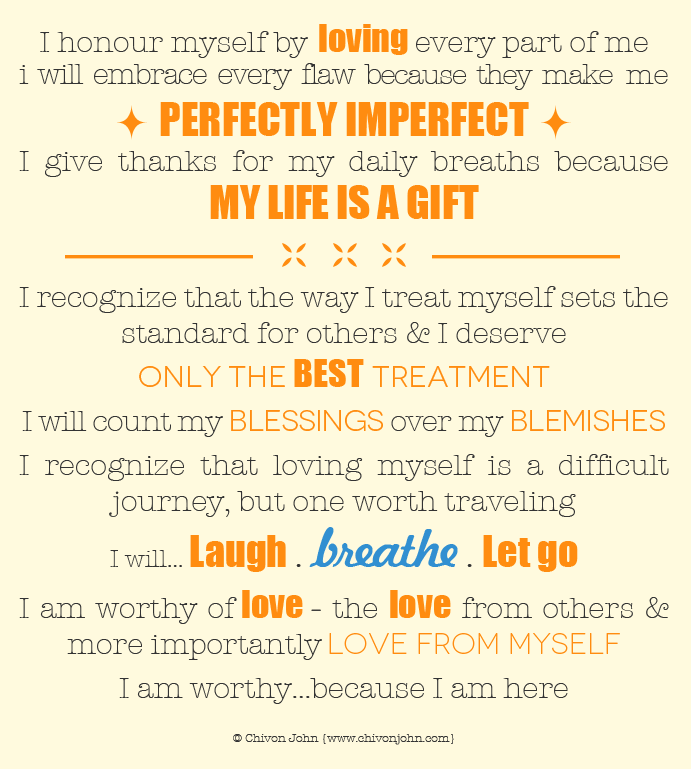 When is the last time you looked in the mirror and acknowledged that there is an amazing person staring back at you in the reflection? Better yet, can you acknowledge your awesomeness without criticizing and picking apart something about your body?
For me, self-esteem is more than a feeling, it has been a journey. It's a road that is filled with bumps and winding turns. One day you may feel at the top of the world and in a flash you feel insecure about something about yourself. I have struggled with self-esteem and body image and even though I have made fitness a greater part of my life, there are still times when I experience my own feelings of self doubt and insecurity.
Creating a body image manifesto is my way of creating a public declaration to kick my body image images to the curb. Every person has a choice in how we choose to define who we are. We can either accept or reject negative images or thoughts and make it a priority to put ourselves first.
My goals with creating a 'Body Image Manifesto' is:
To articulate a promise to myself – a daily reminder to love who I am and not allow anyone, especially myself tell me any different.
To inspire other people who also struggle with self-image issues to re-think the way that they view the relationship with their own body
Hopefully encourage folks to create their own manifesto
Creating your own manifesto is a great way to set intention in your life. If you like this manifesto or found it helpful to you, I would LOVE if you shared it with your network using the social media sharing icons below.
To download your own copy of the manifesto click here or you can add it to Pinterest
If you would like to feature your manifesto on my site, visit the contact section to send me an email!
Do you have your own manifesto? What would you include in your own if you created one? I would love to hear your story!