10 life lessons we can learn from Gabrielle Douglas
[custom_frame_center shadow="on"]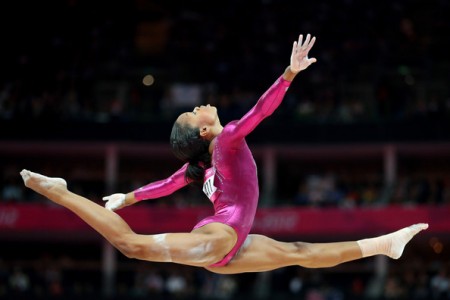 [/custom_frame_center]
[message type="custom"]
I'm elated about today's blog post because it is a collaboration with the amazing Pauleanna Reid. She is a Professional Writer, Fashion Stylist and Motivational Speaker and we've become incredibly close friends and I consider her to be like a sister to me. Over the weekend, we spoke several times about how much the olympics has inspired us to soar to greater heights and we felt compelled to create a special blog post about the woman who has captured our hearts and motivated us in a significant way. Pauleanna and I are pleased to present to you the 10 life lessons we all can learn from Gabrielle Douglas.[/message]
Gabrielle Douglas has captured the hearts and imaginations of millions of people around the world at the 2012 Summer Olympic Games. The petite 16 year old with the infectious grin and powerhouse work ethic, has emerged as a two time gold medal winner and the first African American gymnast to win the Olympic All-Around competition.
Gabby's inspiring journey to the Olympics is part of what makes her story special. Her tenacity and desire to 'think big' can teach us many lessons on fulfilling our own dreams.
1. Mental Strength will be your strongest ally
Leading up to the Olympics, there was a lot of speculation about whether Gabby would be mentally prepared based on previous performances. Even throughout the games it seems that commentary was plagued with doubt and critics even questioned if the media was too harsh in their assumptions. However, Gabby proved her naysayers wrong in her two gold medal performances. She has credited practicing visualization and training herself to look away when her competitors are performing to stay focused on her own goals.
Chivon says: Your mind can be your biggest ally or strongest foe when accomplishing any goal. Each of us has a negative voice that tells us that we are not good enough or even critics who may doubt your abilities. However, failing to reign in your negative thoughts and lack of focus will cause the greatest harm to your success and happiness. Gabby showed us that she was able to pinpoint that focus was one of her weaknesses and she took the necessary steps to learn how to silence her doubts and thrive under pressure while the world was watching.
2. Be prepared to make short-term sacrifices in order to achieve long-term success
At age 14, Gabby left her home and family in Virginia Beach to train with elite coach, Liang Chow, in West Des Moines, Iowa. Her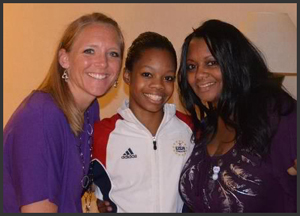 mother Natalie Hawkins has shared how difficult the decision was to let her daughter move over 3000 miles away and also about the financial pressure of keeping her in the sport. She sold her jewelry, worked over time at her job and applied for scholarships so she could make sure her daughter can stay in the sport she loved. Gabby, literally had to start a new life away from her family because she knew that the sacrifice would bring her closer to her dream.
Chivon says: What sacrifices are you willing to make to make your dream happen? We live in a culture of instant gratification and with that comes the expectation that we should receive information, accolades and anything we want right away. Gabby may not have been a household name a year ago, but her journey to the Olympics was years in the making. Along the way, she has sacrificed her body with grueling workouts, time with her family and enjoying the flexibility of teenagers her age. But, she did it for a purpose. She let her desire to accomplish her dream fuel her and knew that all of her preparation would be worth it.
Take a look at your own life to see if you are doing ALL that you can to achieve your goals. It could be as simple as cutting out TV, or getting up earlier. To experience your ultimate goal you must be willing to cut out the vices that may be holding you back.
3. Don't give in to your fears
Imagine how difficult it would be to leave your family and friends behind to live in a city with a family that you don't know? In the 'Raising an Olympian' video series, Gabby's mom Natalie shares that Gabby begged to come home in 2011 because she was homesick. With the encouragement of her family, Gabby didn't give in to her fears and stayed in Iowa to fight for her dream.
Chivon says: Along the way, you will have doubts, fear the anxiety of failing and even question if your sacrifices are worth it. Gabby had a strong support system to rally around her when she felt scared and spent a lot of time in reflection to remember why she was determined to see her dream come to fruition.
In our own lives, keep your dreams front and center in your thoughts and create a support system that will help encourage you when you feel unsure of yourself.
4. Find a mentor
After watching the 2008 Olympics, Gabby was determined to train with Liang Chow because she felt he could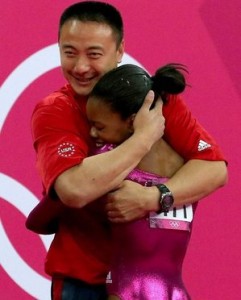 train her to be a champion. Recognizing that she wasn't getting the quality of coaching that she needed, she was determined to train with the best in order to be the best. In a blog for ESPN, Gabby recounts how training with Chow made her the person she is today:
"He has pushed me so hard, and some days I would wonder, "Why do I have to do this?" In the end, though, he believed in me and all the hard work really did pay off. He and his wife Li have shaped me into a better gymnast than I ever thought I could be." – Gabrielle Douglas
Even if it meant leaving home, Gabby shows us a valuable lesson that you must be willing to have a great support system of mentors and teachers to help you be successful.
Chivon says: Success does not happen by flying solo. Seek out the support of mentors, coaches and family to help elevate you to the next level.
5. Be Authentic
Aside from her infectious smile, one of the most alluring qualities about Gabby Douglas is her authenticity. She is humble and poised but also steadfast in her commitment to her spirituality and constantly showing support to her fellow teammates.
Everyday, Gabby tweets inspirational scripture verses and has even showed her playful side by dancing in an interview after one of her performances. She's not afraid to show her personality and her genuine qualities make it easy to relate to her. 
Chivon says: When chasing your dreams, remember to stay true to yourself, be humble and embrace the unique qualities of your personality. Don't try to emulate other people and realize that you don't have to compromise yourself or your values to be successful.
6. Think Big
Pauleanna says: This lesson is self-explanatory, but I feel that it's absolutely necessary to open up this topic of discussion again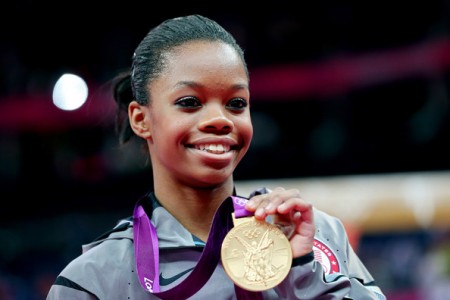 and again. When you know your worth, you understand what you deserve out of life and Gabby's story serves as a perfect example of how powerful our thoughts are. The foundation to thinking big is to 1) talk to yourself with respect, by removing all negative words from your vocabulary and 2) writing down your goals.
The objective behind writing down your goals is to maintain focus and invest your energy in one direction so that you have a clear understanding of what it is you'd like to achieve.
Many of us are very afraid of living outside of our comfort zones because we do not want to fail or face criticism. But without change, there can be no progress. Once you transition your frustration into motivation, you will change your life in many ways. Be confident and start thinking of yourself as BIG and BOLD so that you can rise to the new opportunities that life will throw your way. It's not easy, but if you feel even the slightest bit of anxiety coming on, continue repeating positive affirmations and tell yourself that you can and will achieve anything your heart desires. Gabby knew that she had to think bigger in order qualify for the Olympics, so she took necessary steps to assist her new frame of mind. If she hadn't, just think about all of what she would've missed out on. When you live in a world of yes, you don't settle for less.
7. Different experiences equate to greater opportunities
Pauleanna says: It wasn't a easy decision for Gabby's mother to allow her young daughter to travel 3000 miles to live with a family she didn't know, but it was necessary. What should we take away from this lesson? Be willing to be uncomfortable and open yourself up to new environments and people. Some of you are bored with life and feel as though you're stuck because of the simple fact that you are doing the same boring routines and talking to the same boring people. Variety is the spice of life. Expand your network and take initiative by traveling to environments where opportunities are golden. While you sit at home and complain there are opportunities passing you by. You cannot chase your dreams from the couch. Hidden behind every no is a yes, so go out there and find it!
8. Let Passion Be Your Guide
Pauleanna says: When in doubt, follow your heart. I can't tell you how many times I've done this and have been led to experience incredible triumphs in my life. Having passion for what you do is such an elating feeling, but unfortunately, this euphoria is not as common as you may think. There are many people who are unsatisfied with who they are and what they do because they have disconnected with their passion instead of using it to guide them to a place of happy. Happiness begins and ends with you. By allowing passion to be your guide, you are giving yourself permission to also live life to the fullest and there's no other perfect gift you can give yourself.
9. Chase your dreams instead of chasing [WO]MEN
Pauleanna says: I feel in my heart that this piece of advice is going to touch someone very deeply today. #9 is for the ambitious young woman with big dreams. Sometimes you will have to choose between love and career in order to get one step closer to your dreams. I'm not saying that women cannot balance both, what I'm saying is that for some, dating is not a priority. In Gabrielle's case, I think it's safe to say that boys were far from her mind. At 16 years young, she still has many years ahead of her to find that special someone and fall in love. In a world where the media constantly feeds us fairy tales and unhealthy definitions of romance, I commend her for staying focused and not straying away from her goals.
10. Love the skin you're in
Pauleanna says: It saddens me to think about the Twitter frenzy that is still going on about Gabby's hair. If you want my honest opinion, I think people should get a life and be ashamed of themselves for insulting Gabby the way they have been. After the Olympics, Gabby sat down in from of a computer and googled herself. To her surprise she was shocked to see what many people were saying about her. Here's her response.
[message type="custom"]
"I don't know where this is coming from. What's wrong with my hair?" said Douglas, the first U.S. gymnast to win gold in team and all-around competition. "I'm like, `I just made history and people are focused on my hair?' It can be bald or short, it doesn't matter about (my) hair."
 "Nothing is going to change," she said. "I'm going to wear my hair like this during beam and bar finals. You might as well just stop talking about it."
"I don't think people should be worried about that," she said. "We're all champions and we're all winners. I just say that it's kind of, a stupid and crazy thought to think about my hair."
[/message]
Gabby's handled this media take out with confidence and maturity. What we love about her response is that it was calm, cool and collected. Her personality is so admirable and it's very refreshing to see a young woman have the strength to brush it all off with ease. This is what self-love is all about. Connecting with the simple things that matter the most and despite life's many challenges, you move forward knowing that you are still amazing!
Have you been inspired by the Olympics? Are there any life lessons from Gabby that resonate with you?
Like what you read?
Join hundreds of subscribers and sign up for FREE Updates + exclusive content that I don't share anywhere else.